my favorite time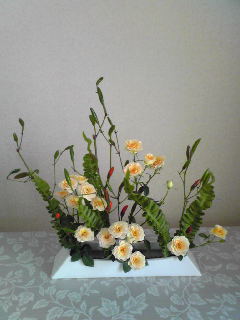 I like Ikebana.
Ikebana means arranging flowers by Japanese
traditional style.
There are some Ikebana schools which have
own traditional styles respectively.
I have learned it for almost 20years.
There are some rules when you arrange it.
At first, you choose flowers and branches
with leaves, then you imagine that how you
arrange them. And you choose a vase for it.
Next, you choose three important frowers
or branches with leaves from them.
We call them as "subject" ,"secondary" and
"object".
They have rules of length, angle and so on.
Finally you add other flowers and branches.
After I finish arranging, my teacher
serves some sweets and green tea.
We enjoy talking over them and flowers
I arranged.
It's my favorite time.