Esashi line
I'm not Tetsuko who loves the railroad, but I like to getting on local trains.
Esashi line which is from Kikonai to Esashi in south of Hokkaido will discontinue in 2014. It is said that this line is beautiful and unique. And some people came from all the way from Honsyu. So I had wanted to get on the train, too.
It was so fabulous that it was difficult to choose some photos for my blog out of as many as 174 photos I took. I was excited and was busy in the train to take photos from right side, left side and back of it. And the stations along the line were very cute as well as the scenery. I had a great time and I want to get on it again.
The one-car train I got on was left the nearest station at 6:59 in the morning. Fortunately it was not so crowded. Since there was only one driver not with any other staff, the train announced that not to speak to him while driving.
Moheji station. I like the name.
You can see Mt.Hakodate beyond the sea.
In the train.
I'm not sure, but the train went through a temple site!
Yoshibori station. It looked made out of an old traincar. How nice!
Some pretty rustic tunnels.
I took this photo from the back of train.
Shinmei station with a green roof.
Yunotai station. He was a driver and he had a hand signal using a red flag. As soon as he sent it, he rushed back to the train.
You can see Amanogawa(Milky Way) Kirara tunnel. Good name!
Miyakoshi station.
Katuraoka station. It made out of an old traincar, too.
Nakasuda station.
Finally, the train arrived at Esashi station at 9:17.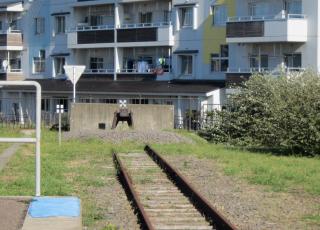 The end of the rail road.
The old-fashioned toilet at the station.
Esashi dolls at the station.
At Esashi station.
A historical road. I dropped in the Soba noodle restaurant on the left.
Soba noodle with herring. It was famous and delicious. The soup was nice, too.
After that I got on the return train. One of passengers was from Nagoya.
Oshimatsuruoka station.
The train stopped as much as 50 minutes to wait for other trains at Kikonai station. Some travelers changed the train and went back to Honsyu.
Kamaya station.
I want to post more, but I should finish here.
Thank you for seeing a lot of photos.
(Please click below for the ranking.)
にほんブログ村
にほんブログ村