Japanese lantern, Hozuki
It's cold today.
I wear two pair of socks.
I got edible Japanese lantern
from my neighbor.
I ate them for the first time.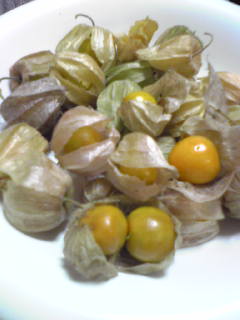 It tasted sweet and acid.
The taste was stronger than tomato's.
Actually, I don't want to eat them anymore,
but I never say that to my son, because
he will never eat again after hearing me.
I'm going to serve them next morning too,
and say "delicious!".
2011-10-02(23:41) :
diary :