bread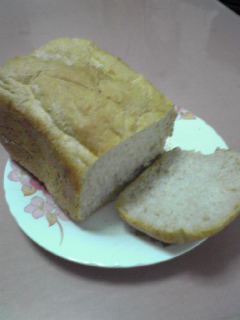 This is rye bread.
I usually bake it twice a week and bake French bread on weekends using a bread maker. My husband has bread for breakfast only weekends, so I bake French bread he loves.
When I lived in Shizuoka city about a decade ago, one day I found an article that was said "why don't you bake cake or bread with me?" with her phone number on a community paper. Since I just moved there and had no fiends, I called her soon. I had enjoyed baking cakes since I was in junior high school, so I was expected to bake cakes with her. However she was better at baking bread than cake. I had never baked bread before then, so I learned it from scratch from her at her kitchen. It was very intriguing for me because I enjoyed not only baking it but also giving it to family or friends. They were so pleased. Since then I had baked bread by hand many times. But when I had a baby, I hardly baked it, because of time consuming a lot. After a while, I bought a bread maker about five years ago, and I was surprised how easy it was. Handmade bread takes about four hours while using a bread maker takes only ten minutes to prepare and then it works automatically.
So that's why I often bake bread now.
2011-10-06(00:35) :
food :