a little cook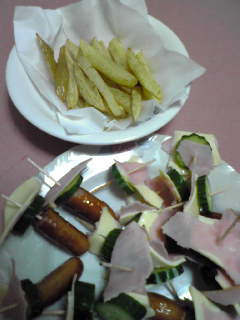 My husband was supposed to eat out tonight, so my son cooked them(above) for two of us instead of me. He likes cooking, and he has handled the kitchen knife since he was two years old. Whenever he cooks, I am beside him. But I let him cook as he likes, and when he need a help, I help him.
What he cooked was French fries and skewered ham, cheese, cucumber and sausage.
Actually, this menu is his forte.
2011-10-07(23:53) :
food :