rose hip (ハマナスの実)
It's sunny, but
sometimes we have a shower today
at times today we had showers
.
When I went out by bicycle for a while, the weather changed suddenly and I got soaked by the shower. So I rushed back home. However as soon as I got home, it got sunny again.
      ↓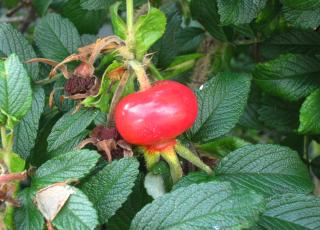 You know
As you may know,
I like herb tea. And there are many kinds of herb tea. I've had "rose hip" tea before. It's red and tastes sour.
Recently I knew the fruit of Hamanasu was a kind of "rose hip" for the first time. I was surprised
at
by
it.
These days we see those rose hips
near around
near-by
. They are cute. I want to see inside of them. I will ask the owner to give me one if
I have
he has
a chance.
(Please click below for the ranking.)
にほんブログ村
にほんブログ村
FC2 Blog Ranking
2013-08-25(14:32) :
diary :