a tooth
I didn't have to pick up my son and his friend for their soccer today, so I was a little happy to have more extra time. I have been suffering from lack of sleep lately, so I want to go to bed earlier tonight.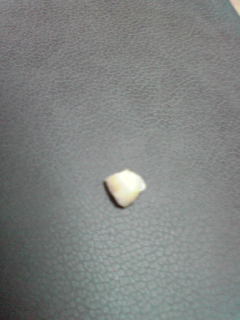 My son pulled out his baby tooth by himself tonight, it was not the first time though. Usually in Japan, when the upper tooth came (or was pulled) out, the child throw it away to the ground, and when the lower tooth came out, he (or she) throw it away on the roof.
However I love even his tiny tooth, so .....I keep it in a box.
2011-10-13(17:35) :
diary :