Ikebana 11/27/2013
I arranged Acasia (三角葉アカシア), Alstroemeria (アルストロメリア) and Dracaena (ドラセナ).
There are some kinds of acasia. And this acasia has all trianglar leaves. It's interesting.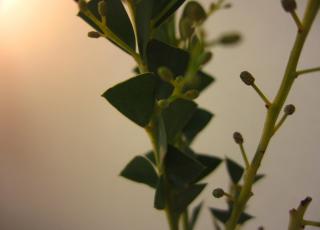 It's snowing a little now.
I had managed to send some postcards which say that we refrain from New Year's greetings due to the mourning period.
I will not have to work for New Year's cards next month, so I will have more time for cleaning. Since my son likes cleaning nowadays, I hope he will help me. Actually one of our rooms is full of cardboard boxes. I have to throw away some of them. As you may know, we have to move again and again for my husband's job, so some of cardboard boxes haven't opened for a long time. Besides the number of them has been increasing.
When we move next, we have to live in a smaller apartment because my husband's company had a new rule that the apartment we live has to depend on the number of family. As there are only three in my family, we will have to live in 2LDK housing or smaller next time.
I really want to have my own house with a garden in the future. It's my dream.
(Please click below for the ranking.)
にほんブログ村
にほんブログ村
FC2 Blog Ranking