a Takoyaki pan
Plumbers came my apartment to check up drainpipes today. I had cleaned not only sinks but also a lot of things yesterday. I should clean every day, but I can't.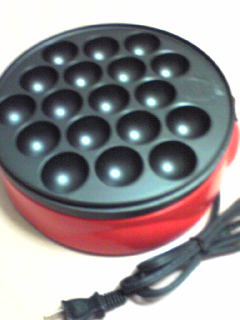 This is a Takoyaki pan, you know. Let me explain a little for those who don't know Takoyaki. Takoyaki is octopus balls (or dumplings, or kind of fritters), and it is filled with diced octopus in batter.
Fortunately I got a Takoyaki pan today. Sometimes I wanted it, but I didn't want to buy it, because I didn't know how many times I use.
I will try it in the near future.
2011-10-15(00:49) :
diary :