Christmas cookies
There is no snow on the ground. It's unusual here though Christmas is coming soon.
I baked some Christmas cookies and after that I soaked dried fruits in rum. I'm going to make panettone tomorrow, which is Italian Christmas bread.
I've been busy for sewing, shopping, calling, cooking, writing, and so on for Christmas these days. And then when it's over, I will not have even a moment to rest and I have to prepare for a new year like many people. This year I don't have to write any New Year's cards because our family is in mourning, but I'm busy as usual.
I got tired already.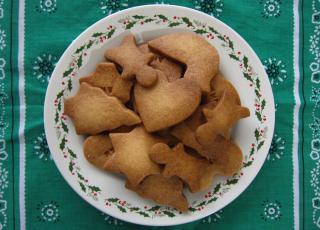 Yesterday my father sent us a simmered whole alfonsino (金目鯛の煮付け). It's sperb! He is very good at cooking it and he sometimes cooks and gives it to someone to celebrate. He uses a big pot for it and simmers it on a bamboo net so as not to come apart when he puts it on a dish. And finally he decorates it with leaves of nandina (南天) which is said as a fortunate plant from my parents' garden.
When I was a kid, many friends liked hamburg steak. And I asked my mother to cook it because I didn't know what it was. After I tried it, I thought that simmered mackerel (鯖の煮付け) cooked by my father was much better than it. I was not sure my mother was good at cooking hamburg steak though. Of course I liked my mother's dishes as well.
When I was busy and frustrated, this simmered whole alfonsino made me feel warm hearted and was helpful.
(Please click below for the ranking.)
にほんブログ村
にほんブログ村
FC2 Blog Ranking
2013-12-20(20:36) :
food :