Tokyo Disney Resort
After I came home from my mother-in-law's, I went to Tokyo Disney Resort with my friends, their children and my son.
It has been more than twenty years since I went to Tokyo Disney Land with my husband, but we didn't think we would go there again. To tell the truth, I'm not interested in Disney goods and I don't like to ride kinds of roller coaster. And I was fed up with waiting in line for a long time for everything there.
However I was invited to go there from my friends and my son wanted to go. So I made up my mind to go there again for my son.
Another my friend who went there from Jan.2 to Jan.4 before we going said to me that it was so crowded and her family waited for as much as four hours for the most popular attraction. I thought it was crazy.
We stayed the hotel for two nights and we went to Disney Land on the first day and Disney Sea on the second day. It was the first time for me to go to Disney Sea.
Since many schools in the mainland finished the winter vacation around that day, it was not so crowded. We waited in line for about two hours at most though. We could ride about five attractions on each day.
My son enjoyed there very much while I enjoyed the beautiful scenery. However I was exhausted and had a backache. I thought it was enough for me.
Disney Land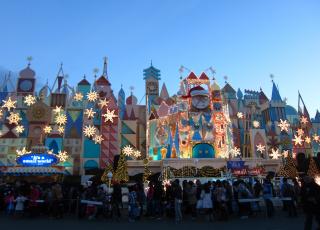 Disney Sea
(Please click below for the ranking.)
↓ 'Journals in English' ranking
にほんブログ村
↓ 'Ikebana(Arranging Flowers)' ranking
にほんブログ村
FC2 Blog Ranking