go back to the origin
Where is my health insurance card?
I've been looking for it here and there in my house these days. I can't remember exactly where it was the last time. I've not found it anywhere. It's strange and it's not supposed to happen usually.
Then finally I called the police to report the loss of it.
Another bad thing happend to us recently and went to the police again.
It seems like that the beginning of this year is not so good. I don't want things like that to last until the end of this year. Besides I have to pay attention to my health on my age this year according to a certain TV commercial. I have a bad feeling about it now.
From now on, please note that I'm going to write about something like a disgusting topic for someone.
An evening paper of the other day said that maggots worked well for some diabetics.
Some diabetics have to have leg amputation for their disease. Maggots being at the ulcer site eat only necrotic tissue and their saliva sterilize there. Moreover they work to nurture good tissue.
I was very surprised by this article. These days we apt and want to go ahead and ahead, but sometimes it's important for us to go back to the origin.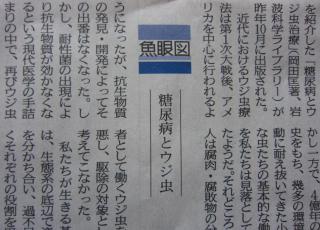 (Please click below for the ranking.)
↓ 'Journals in English' blog ranking
にほんブログ村
↓ 'Ikebana(Arranging Flowers)' blog ranking
にほんブログ村
2014-02-02(15:44) :
diary :