my starting point
Speaking of 'go back to the origin', when I went back to my parents' house I took a picture of my 'origin'.
When I was a child, there were many books in my house. My uncle who was a carpenter made a special big bookshelf for us. I used to like reading a book titled 'Madame Curie' very much, so I read it about five times. And another book I used to like was World Geography. There was a series of encyclopedias, and I used to like looking one page of World Geography.
There were some portrait photos of race on that page. It was the starting point which I was interested in the world.
Several years later, when I was a junior high school student, my friend started corresponding with a foreigner. Soon I also started it, too. In those days I had about five penpals. I had been into it and also baking cakes. My dream which I wanted to see my penpals finally came true when I was in my twenties. I went to Austria and Czech to see them. I had wonderful experiences there.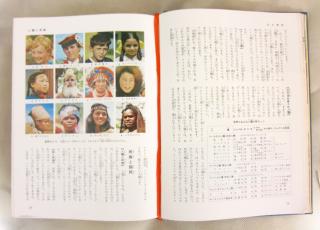 (Please click below for the ranking.)
↓ 'Journals in English' blog ranking
にほんブログ村
↓ 'Ikebana(Arranging Flowers)' blog ranking
にほんブログ村
2014-02-04(09:41) :
diary :