recreation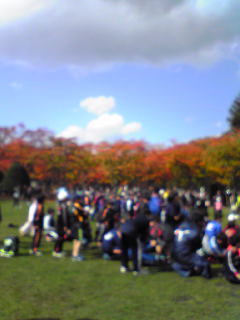 We had a recreation with soccer club members and their parents today. Nearly a hundred people got together. It was supposed to start at 10 o'clock, but it was raining in the morning, so it started at 11.
At first, we had some games such as jumping rope which is long for about ten people at a time, dribbling relay using a soccer ball and so on.
I had to join a dribbling relay although it was the first time for me.
Then, we prepared lunch cutting meats and vegetables and then we had Miso soup with salmon and other vegetables, mutton BBQ and fried noodles.
And it held a bazaar selling soccer goods such as balls, shoes, sports wear and so on. They were secondhand and cheap, so my son as well as other children enjoyed buying some.
The leaves turned red and yellow. They were so beautiful.
I want to come again to see more red and yellow leaves.
2011-10-16(23:56) :
diary :