Strawberry Roll Cake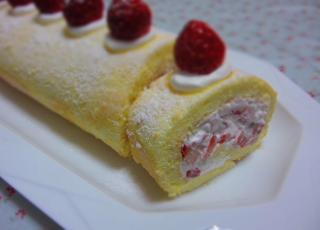 I made a strawberry roll cake for my son's birthday with his request.
When I baked the sponge cake, I coverd the container to keep the moisture as a blog visitor advised.
I was very happy that it turned out better than before. My son was very pleased with it while my husband wanted it to be sweeter.
I took a video of him in memory as usual, but he didn't talk to it very much although I asked some questions such as how he felt having his birthday. And we forgot standing any candles on the cake.
He was happy to get some clothes and a game soft. Now he wouldn't be pleased if I gave what I want to give him.
(Please click below for the ranking.)
↓ 'Journals in English' blog ranking
にほんブログ村
↓ 'Ikebana(Arranging Flowers)' blog ranking
にほんブログ村
2014-02-18(21:06) :
food :