unmanned sale 無人販売所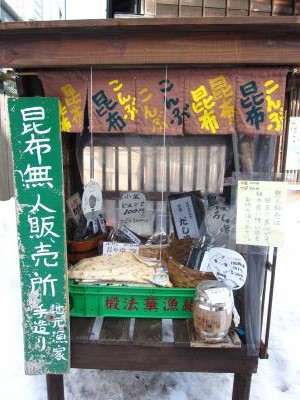 I found an unmanned shop along the street by chance the other day and bought some kelp and some mixed salt with powdered kelp there. Of course I put the equivalent coins into the box although nobody saw me.
Are there any unmanned shops in other countries?
I think this is one of the things that Japan can boast to the world. There are not a few ones here in Japan. Especially in summer, we often see them which sell some vegetables and so on.
I hope these kind of shops last long.
(Please click below for the ranking.)
↓ 'Journals in English' blog ranking
にほんブログ村
↓ 'Ikebana(Arranging Flowers)' blog ranking
にほんブログ村
2014-02-23(12:45) :
diary :