a souvenir from Taiwan
I got a souvenir from my English classmate.
She visited Taiwan this time. She often goes abroad, and she always gives us some souvenirs and her traveling stories. I've never been abroad since I was pregnant, so I look forward to listening to her.
It is said that Taiwan is famous for pineapple cakes. I tried it and it was nice. A part of the package was written in Japanese. She told us that many people were very kind to her and she enjoyed sightseeing as well as foods, but she complained about the smell which was from fermented Tofu or something like that in the night market and a sewer in the suburbs.
She seemed to talk with some Taiwanese in English there. I envy her because it seems that learning English is useful for her to travel, while I hardly have chance to talk with foreigners except in English class. I talked to a Chinese by chance when I traveled around Hachiman-zaka slope in Hakodate about a month ago though.
Should I wait for foreign tourists at sightseeing spots here to speak English?
No way!
a pineapple cake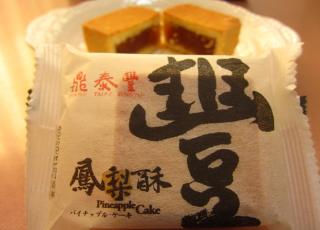 (Please click below for the ranking.)
↓ 'Journals in English' blog ranking
にほんブログ村
↓ 'Ikebana(Arranging Flowers)' blog ranking
にほんブログ村
2014-02-25(08:57) :
diary :