a cheese cake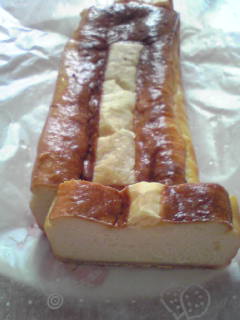 I baked a cheese cake last night at the request of my son. He loves cheese, and when he eats curry and rice, he wants to put sliced cheese between curry and rice. Besides whenever he cooks, he takes cheese. So I always keep it in the fridge.
I like to read a reader's column on the newspaper.
Someone said that she kept a diary writing only things that was happy because happy things were forgotten soon, but bad things were not. And she gradually has positive thinking as she keeps it like that way.
I agree with her. When I was a child, I kept a diary that was written many bad things. And after a while when I reread it, I remembered that again, and it made me down. So I quit keeping a diary soon. Now I have written down almost what happened on my favorite small notebook published by Ikebana school since I was pregnant.
2011-10-17(23:41) :
food :