a workbook / 究極のゼミPt.7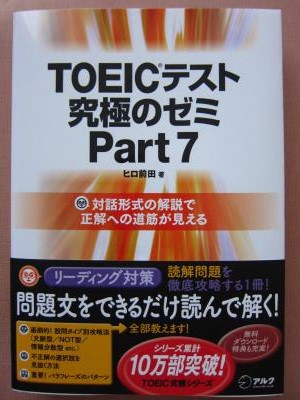 I've studied 'TOEICテスト究極のゼミPart7' since the beginning of this month.
When I had finished the workbook '究極の模試' I mentioned before, my score got improved substantially. I like this author, Hiro Maeda. Especially I like each 'ゼミ生中継' which is like a short seminer after each questions in his books.
I'm not good at answering Part7 on TOEIC, and moreover, the magazine 'PRESIDENT' I mentioned before introduced 'TOEICテスト究極のゼミPart7'. So I bought one.
Although I've done it a little, it says that you should answer Part7 for 55minutes. And you should read whole articles as much as possible. And as it is likely that a few last questions are difficult , you should answer in the order of Single Passage1→2→3→4→5→6→7→Double Passage1→2→3→4 →Single Passage8→9.
I haven't finished プラマガ2014.5 yet, that is now I'm studying it for the third time. So I have to finish it as soon as possible. And if it's possible I want to finish this workbook 'TOEICテスト究極のゼミPart7' and 'トリプル模試' before the TOEIC test in September.
P.S.
You can see the corrections of this article on this comment site.
(Please click below for the ranking.)
↓ 'Journals in English' blog ranking
にほんブログ村
↓ 'Ikebana(Arranging Flowers)' blog ranking
にほんブログ村