Japanese are passionate diarists.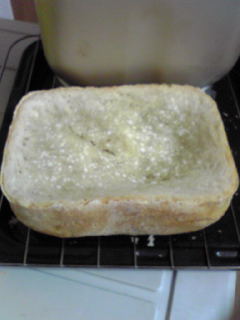 I baked French bread this morning using a bread maker, but failed. It didn't rise at all. What was wrong? I didn't use the same quantity as the recipe. Or the bread maker might be broken, because the rye bread I baked yesterday didn't rise very much, too.
I put the same ingredients as the recipe into the bread maker already for next morning. How will it be? If it's failed again, I have to call service.
A newspaper said that...
The Japanese are known for their sense of quiet reserve and shyness. Blogging is a national pastime and that Japanese tweets have gathered 14 percent of Twitter traffic worldwide (second only to English with 50 percent). Japanese are passionate diarists. It makes sense. Japan is one of the most literate nations on the planet and Japanese literature is world-renowned.
I like writing letters,too. When I was in elementary school, I had some Japanese penpals, and after that, I was absorbed in correspondence with foreigners. Now I enjoy emails, but after all I like letters best of all.
2011-10-23(00:23) :
food :