toilet
The bread maker worked well this morning, so it was my fault yesterday. I was relieved that I didn't have to call service.
I want to write about Japanese toilet today, if you don't know it. Many people say that Japanese toilet (or restroom) is the best in the world.
Using a toilet is usually free in Japan. Wherever you go, you can find a toilet. For example, every stations, many trains, almost any kind of shops, every convenience stores, big parks, hospitals, post offices, banks, every public facilities, .... you name it, we have it.
Moreover, they are very clean.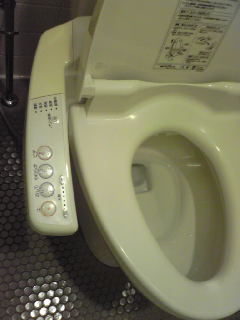 There are many toilet seats with bidet functions.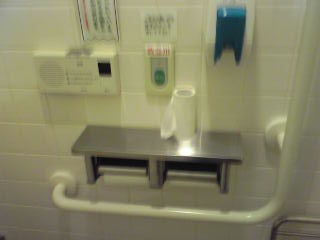 They have not only rolls of toilet paper but also disinfectant which is used for seat, or seat papers for those who don't want to sit on the seat directly, and flushing sound function for those who don't want to be heard own urinating by someone, and someimes even an emergency button.
I will take other photos of toilets and show you someday.
2011-10-24(00:20) :
diary :