fox face
I went to Ikebana (arranging flowers) class yesterday and I used some foxface. I was sorry that the photo was not so clear. You know I use my cell phone camera for it. Actually I can't put on photos by a digital camera although I tried it a few times.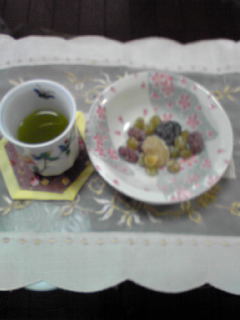 Then my teacher served me a cup of green tea and sweet beans. We enjoyed talking over them.
My son came home from soccer school in the evening and after he watched TV, he wanted to cook, but I didn't accept it because I cooked halfway, moreover he hadn't done his homework at all then. Suddenly he cried very much and loudly, and it was unusual. I hugged him and asked him that what wrong was with him at school or the soccer school, but he said nothing. I let him do as he wanted. Then he cooked and watched TV again.
There was a personal meeting with a teacher at school the other day, and his teacher said to me that my son acts a good boy and it might pressure him sometimes, so please loosen him at home.
I wondered what happened to him.