Ikebana 11/5/2014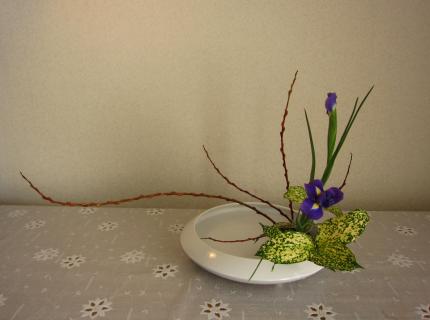 I had composed this arrangement of Willow (アカメヤナギ), Iris (アイリス), and Dracaena Godseffiana (ドラセナゴッドセフィアナ).
This was the Water-Reflecting Style which was arranged to show a wide surface of water.
Although I usually use a Kenzan (needle-point holder) when I arrange flowers in a shallow container, I used two kinds of Shippo holders for this arrangement.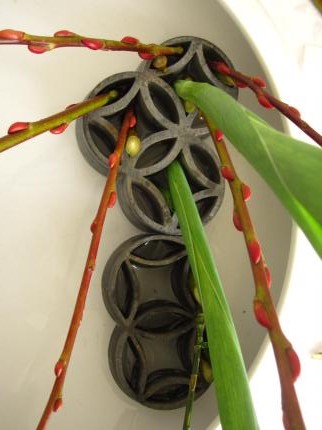 ↑Shippo holders
It is very difficult for me to use Shippo holders, because it is difficult to hold flowers. So we use some short twigs to hold them. And some important stems are held in the each designated hole. Moreover, for example, the main branch must slant at an angle of 70 degrees, and swing 45 degrees from the right front. Maybe, it's difficult to see its angle or swing through the photo, though.
P.S.
You can see the corrections of this article on this comment site.
(Please click below for the ranking.)
↓ 'Journals in English' blog ranking
にほんブログ村
↓ 'English learner' blog ranking
にほんブログ村
↓ 'Ikebana(Arranging Flowers)' blog ranking
にほんブログ村