Papaya Seed
My English classmate went on a trip to Hawaii and gave me some souvenirs kindly.
One of them was a bag of dressing mix, 'Papaya Seed' , the ingredients of which were papaya seeds, cane sugar, salt, onion powder, garlic powder, and so on.
I had never tried papaya seeds, so I wondered what would taste like. At first, I checked it on the Internet. Then I tried this tiny black seed.
Yes, it tasted like Japanese horseradish, wasabi, as the Internet said. It's difficult to explain the taste, but it's spicy.
I'm looking forward to having it with salad.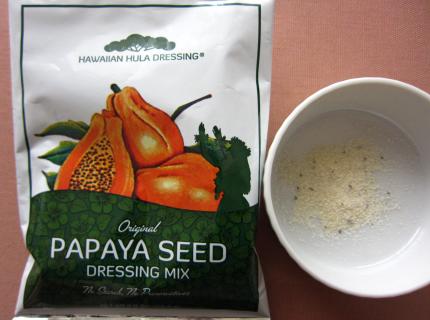 P.S.
You can see the corrections of this article on this comment site.
(Please click below for the ranking.)
↓ 'Journals in English' blog ranking
にほんブログ村
↓ 'English learner' blog ranking
にほんブログ村
↓ 'Ikebana(Arranging Flowers)' blog ranking
にほんブログ村
2014-11-21(11:07) :
food :