Merry Christmas 2014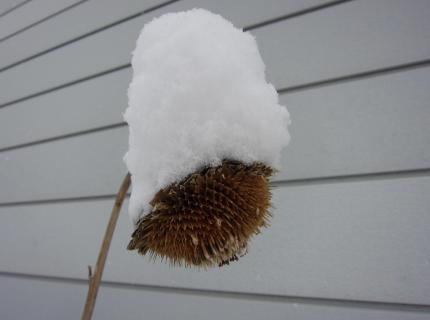 A sunflower wearing a snow cap
Merry Christmas!
Our family had a Christmas feast such as pizza, chicken, sushi, cake, and so on last night already.
My son used to write a letter to Santa about a present which he wanted, but this year, he was reluctant to do that. I rushed him to write a letter.
"You should write a letter to Santa soon, because it takes a week to receive it where Santa lives in Finland."
My son was laughing to hear that, and said "He lives here!".
Panettone
I made Panettone, Italian Christmas Bread the other day.
It took a long time, but it turned out nice. It keeps about a month, so we have it little by little.
[Panettone] 2 this panettone molds
Ingredients:
400g bread flour
10g dry yeast
60g sugar
7g salt
12g skimmed milk
120g egg
80g milk
40g water
25cc rum
100g butter
280g dried fruits soaked with rum
100g walnuts
1. soak dried fruits with rum for one night
2. mix all ingredients by hand for 15 minutes
3. let rise the dough for 60 minutes
4. cut into two
5. let rise them for 20 minutes
6. put them into the molds
7. let rise them for 40 minutes
8. put them in the 170℃ oven for 30 minutes
I'll post the recipe site of the Christmas cookies I posted the other day below.
I had tried to make a lot of cookies, but I think this recipe is the best of all. And my son and his friends love them.
Please check it out →
cookies
P.S.
You can see the corrections of this article on this comment site.
(Please click below for the ranking.)
↓ 'Journals in English' blog ranking
にほんブログ村
↓ 'English learner' blog ranking
にほんブログ村
↓ 'Ikebana(Arranging Flowers)' blog ranking
にほんブログ村
2014-12-24(10:51) :
food :