Ikebana 5/13/2015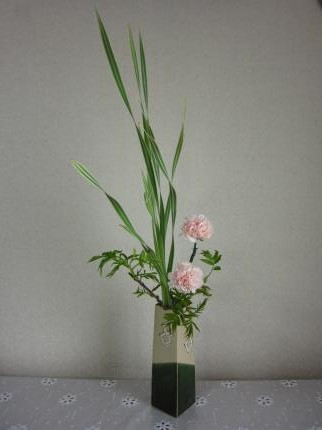 I had composed this arrangement of Cattail (縞ガマ), Japanese Rowan (ナナカマド), and Carnation ( カーネーション).
Now, Japanese Rowans are blooming here although you can see only their leaves on this photo. They are white and small.
It was Mother's Day last Sunday, but my son didn't do anything for me unfortunately. Only I could enjoy the day was to see the Carnation flowers.
TOEIC テスト模試ハイレベル1000問
3/28 Mock Test 1 -- Listening 72/100, Reading 67/100
5/10 Mock Test 1 -- Listening 83/100, Reading 75/100
5/16 Mock Test 1 -- Listening 97/100, Reading 98/100
P.S.
You can see the corrections of this article on this comment site.
(Please click below for the ranking.)
↓ 'Journals in English' blog ranking
にほんブログ村
↓ 'English learner' blog ranking
にほんブログ村
↓ 'Ikebana(Arranging Flowers)' blog ranking
にほんブログ村