workshop / Umeboshi (pickled plum)
I think that it is difficult for me to make Umeboshi. I've never tried it before, but I had wanted to make it.
I participated in a workshop to make Umeboshi today.
There were fourteen members including only a man who looked around seventy in the workshop.
This workshop taught us how to make Umeboshi in a plastic bag.
The workshop had only two and half hours. I was wondering how to make it in such a short time. Because, according to recipe books, it usually takes several months to make. I had assumed that after the workshop I would continue to work more to complete it.
Plums were yellow and they smelled really good.
I washed plums and removed hulls. I then pushed salt into the part of hulls in a plastic bag.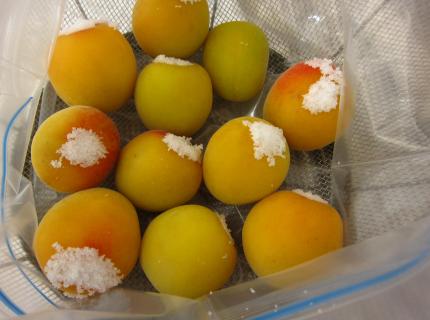 The teacher recommended that this salt is the best for making Umeboshi.
I was a little surprised that it was from Vietnam.
I then closed the bag. We finished working it.
And we listened to the lecture about making Umeboshi from the teacher. I asked her about many things in a question time.
We tried to eat white Umeboshi and red Umeboshi made by the teacher. Red Umeboshi was made with red perilla, but white one was made without one. I realized red Umeboshi was much better than white one.
The teacher taught us how to make both with only explanations of the handout.
Making red Umeboshi is more difficult than white one, but I thought I wanted to make red one.
The red perilla is very short time at the supermarket here, so I bought some after the workshop.
As I had expected before the workshop, I will have to continue to make more the red Umeboshi.
The teacher told us that how the real Umeboshi is healthy. Especially, three year old real Umeboshi becomes medicine. I was surprised to hear this. 'Real Umeboshi' means homemade and no chemicals.
According to the teacher, real Umeboshi or Miso has no expiry edible date.
Homemade Umeboshi is worth taking a long time to make. I don't know how long to take it and it is complicated, but I really want to complete it.
P.S.
You can see the corrections of this article on this comment site.
(Please click below for the ranking.)
↓ 'Journals in English' blog ranking
にほんブログ村
↓ 'English learner' blog ranking
にほんブログ村
↓ 'Ikebana(Arranging Flowers)' blog ranking
にほんブログ村
2015-06-16(23:56) :
food :