color therapy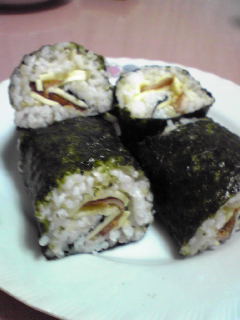 My son made sushi rolls with sliced cheese and pork for supper.
I attended a color therapy lecture at my son's school today.
We chose some of color bottles intuitively from all kinds of colors and then we learned the meaning of colors. According the lecture, the chosen colors express your current mind. You can also notice mental conditions of your children sensitively by chosen colors of them.
RED: cheer, advance, passion, challenge, anger,
ORANGE: friendly, communication, optimistic, health,
YELLOW: happy, free, logical, selfish, enjoyable,
GREEN: stability, balance, indecisive, natural,
BLUE: sincere, peace, calm, reserved, sadness,
BLACK: negative, uneasy, end, loneliness,
WHITE: pure, clean, start, empty, obedient,
2011-11-11(23:27) :
food :