Ikebana 1/18/2017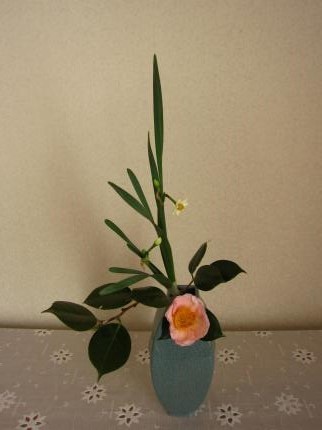 I had composed this arrangement of Narcissus (スイセン) and Camellia (ツバキ).
Arranging Narcissus is one of the most difficult works for our school.
First of all, I separated the Narcissus to the four leaves, the flower stem, and the sheath called Hakama in Japanese.
There are always four leaves and a single flower stem in each Narcissus plant.
The sheath is the most important to arrange Narcissus.
I adjusted the lengh of four leaves by rules. I set the leaves through the sheath carefully to not break. I then cut the other side of leaves.
I set the flower stem between two pairs of leaves, but the head of flower must be lower than leaves.
The sheath has a face, so, it must face forward. However, the sheath of lower Narcissus must face toward the higher one.
Moreover, the sheath must be shown on the container, but the bottom line of the sheath must not be shown.
It took a long time to complete the arrangement.
After arranging, my Ikebana teacher gave me a pretty pot kindly.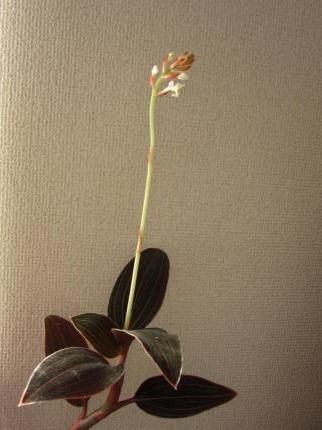 This is a kind of Orchid, Goodyera, called Syusuran (繻子蘭) in Japanese.
I like it very much.
Its leaves are also pretty. They are like velvet and have pink colored lines.
P.S.
You can see the corrections of this article on the comment site.
(Please click below for the ranking.)
↓ 'Journals in English' blog ranking
にほんブログ村
↓ 'English learners' blog ranking
にほんブログ村
↓ 'Ikebana(Arranging Flowers)' blog ranking
にほんブログ村