Ikebana 1/17/2018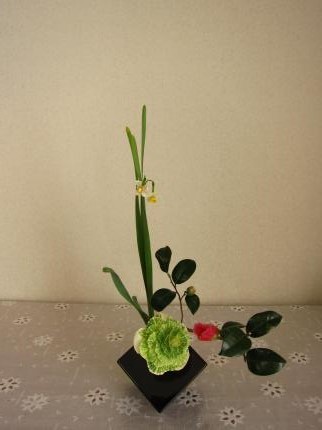 I had composed this arrangement of Narcissus (スイセン), Ornamental Cabbage (ハボタン), and Camellia (ツバキ).
When I called my mother as usual a few weeks ago, she was about to cry. She said that my father was different from usual, in other words, he didn't say a word that day. He never takes a walk hand in hand with my mother. However, he took a walk clinging to my mother that day. I was very worried to hear this.
After eight in the evening on that day, my mother called me in a panic, "Father is dead in the bathtub! What should I do? Please come here soon!" "Just take him out of the water soon!" said I. "I can't do that. He is too heavy!" said my mother.
After the phone, my husband told me to tell my mother to drain the hot water in the bathtub. I called her to tell this soon.
The nearest relatives came to her house soon and took my father out of the bathtub. Fortunately, he was alive and was taken to the hospital by ambulance.
I flew to see my father at the hospital. He looked bad and I thought that he would never come back home again.
On the first day, my brother slept in my father's bed at parents' home. On the second day, I did the same. The bed smelled my father, and I couldn't sleep well.
We cried. Especially, my brother often cried.
My father's hands were tied to the hospital bed because he tried to get rid of some medical tubes so often. He didn't understand what happened to him. It was hardship for him. He couldn't even scratch his face when he felt itchy. We were very sorry for him.
My brother asked the doctor to discharge my father from the hospital as soon as possible. The doctor allowed to do this after some check-ups.
My brother cried again, but he did with happiness now.
My father stayed only two nights at the hospital, and he fortunately came back home. At first, he couldn't even drink water by himself, but now, he can do it. If he had been hospitalized longer, he couldn't do anything by himself.
My father was saved again (
before
).
P.S.
You can see the corrections of this article on the comment site.
(Please click below for the ranking.)
↓ 'Journals in English' blog ranking
にほんブログ村
↓ 'English learners' blog ranking
にほんブログ村
↓ 'Ikebana(Arranging Flowers)' blog ranking
にほんブログ村